AOL Mail Login and Contacts
How do I log in to my AOL Mail account?
How do I reset my AOL Mail password?
What is the AOL Mail customer service phone number?
What is the AOL Mail Corporate Office address?
Everything you need to know about AOL Mail.
What is AOL Mail?
AOL Mail, sometimes stylised as AOLMail or Aol Mail, is a free webmail service offered by AOL, which is now a brand owned by Verizon Communications. In the mid 1990s, AOL Mail was recognised as the largest email provider in the world. However, at that time, the service was exclusively available to AOL internet customers.
The company's free webmail service opened to the wider public in 2005 as AIM Mail and was initially connected to its AOL Instant Messenger (AIM) service. It is now known as AOL Mail. Following Verizon's purchase of AOL in 2015, the company made the decision to migrate all Verizon.net email subscribers to the AOL Mail platform too.
How Do I Create an AOL Mail Account? – AOL Mail Sign Up.
To create a new AOL Mail account, you will first need to visit the main AOL.com mail login page, which can be found at: mail.aol.com. From there, you should see a login box and underneath, there should be a box labelled "Create An Account". Click on this and you will be taken to the AOL email account registration form.
On the next page, you will need to enter personal information and select your new email address, which will end with "@aol.com". Your email address will need to be at least four characters in length and you will not be able to continue if your chosen address has already been selected by another user.
You will also need to select a password and you will not be able to proceed if your password is not deemed strong enough. Generally, a strong password will include a combination of numbers, upper case letters, lower case letters and symbols. It will need to be at least eight characters in length and cannot contain your name.
Once you have entered all of the requested information, click 'Continue' at the bottom of the page.
A code will be sent to your cell phone, which you need to enter on the next page under "Verification Code".
Then, simply follow the on-screen instructions to complete the sign up process and create your new email account.
AOL Mail Login.
How Do I Sign In to My AOL.com Mail Account?
In order to log in to your AOL Mail inbox, you first need to go to the main AOL Mail sign in page at https://login.Aol.com.
Once the page has loaded, you should see a login box on the right-hand side of the screen. In the field labelled 'Username or Email Address', you should enter your full email address, complete with the "@aol.com" suffix.
If you wish to stay signed in on the device you are using, check the box labelled 'Stay Signed In', but you should not do this on a shared or public device.
Click 'Next' and you will be asked to enter your password in the next field. Do so and then press 'Enter' or click the button underneath to complete the sign in process.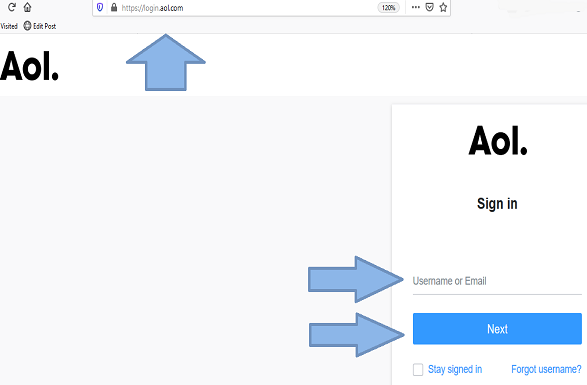 AOL Email Login Problems.
I can't log in to my AOL Email Account. What is the problem be?
Occasionally, AOL Mail users might encounter problems that prevent them from logging in. Fortunately, many of the most common problems are well-known and this means that if you are experiencing issues, you may be able to resolve them by running through a simple checklist of potential solutions and seeing which one works.
If you receive an "invalid password" error message, this means the password you have entered is incorrect or does not match AOL's records. The most common explanations for this are that you have made a typing error or that you have used upper case and lower case letters in the wrong place. Check that CAPS LOCK is off and re-enter your password. And, if you are copying and pasting your password from a document, then make sure that you leave out any "spaces".
Another possible explanation here may apply if you have recently changed your password, but your browser includes a password auto-complete feature. In this event, it may be that the auto-complete is attempting to sign in with your old password, rather than your new one, so you should try checking those settings in your web browser.
Alternatively, it could be that your password has been changed by someone who gained unauthorised access. In this case, it is best to follow the password reset instructions later in this article and set a new password.
Similarly, you may have made a mistake when entering your username or email address, so check that you have not made any typing errors. In particular, mistakes like using a zero instead of an "o" or using an upper case "I" instead of a lower case "L" can be difficult to spot, so it may be best to delete what you initially typed and start again.
Occasionally, users encounter problems linked to their web browser. The easiest way to identify whether this is the cause of your issue is to try to sign in using a different web browser. You could also try to log in using a different device to see if that makes a difference. Possible ways to fix a problem with your preferred web browser include making sure it is updated to the latest version, clearing cookies and browser data, or temporarily disabling ad-blocking add-ons.
Finally, it could be that the AOL Mail login site is having technical issues. A simple Google search for a term like "is AOL Mail down?" should bring up websites that will give you up-to-date information about the site's status, such as www.isitdownrightnow.com.
How do I Reset My AOL Mail Password?
If you have forgotten either your username or your password, or need to reset your password for any other reason, you can do so from the main AOL Mail login page. Underneath the sign in form, click the link labelled "Forgot Username?" or "Forgot Password?", depending on which part of the sign in process you are at.
Alternatively, click here.
If you are resetting your password, it is important that you set a new one as soon as you regain access to your account. This can be done from within the account settings. Remember, it needs to be both strong and memorable.
Do I Recover my AOL Mail Account or Find My AOL Mail Username?
To find out your username, you will need to provide either a recovery phone number or a recovery email address and these should have been provided when you registered your account.
To reset your password, you can also provide your AOL email address. From there, simply follow the instructions sent to your recovery phone or email address.
To start the recovery proces go, here.
Where Can I Download the AOL App?
The AOLMail App is available from the App Store for iPhone, iPad, and Apple Watch, and from the Google Play store for Android devices, including mobiles and tablets.
To download the app, simply visit the relevant store and search for "AOL". Make sure the app in question is being offered by "AOL Inc."
The name of the App Store version is "AOL: News Email Weather Video", while the name of the Google Play Store version is "AOL – News, Mail & Video"
How Do I Contact AOL Mail Customer Service?
Whether you are having problems registering or logging in, or having problems with your account more generally, there may be times when you need to speak to a member of the customer service team. There are a number of ways to contact AOL customer service reps, including by live chat, with more details available by clicking here.
The main phone number to call is for AOL Mail support is: 1-800-827-6364. This is the AOL Mail Support number to call to reset your password, for AOL SIgn Up and for Account Support.
This number is available from 8am to midnight from Monday to Friday, and from 8am to 10pm on Saturdays. The Verizon AOL customer service team can provide account support, sign up support, password reset assistance and technical support.
Spanish language AOL support is available on: 1-866-885-5117.
The AOL Mail Technical Support phone number, for Paid Customers Only is: 1-800-827-6364 (24 x 7).
Furthermore, the AOL TTY service is available for the hearing impaired on: 1-800-759-3323.
AOL Mail Corporate Office
What is the AOL Mail Corporate Office Headquarters phone number?
The AOL Mail Corporate Office phune number is: 1-212-652-6400.
What is the AOL Mail Corporate Office Headquarters mail address?
The AOL Mail Corporate Office mail address is:
America Online
770 Broadway
New York, NY
10003
AOL Mail Social Media Support.
You can also contact AOL Support on Social Media, such as Twitter and Facebook:
AOL Facebook Support: www.facebook.com/AOLCustomerCare.
AOL Twitter Support: www.twitter.com/aolsupporthelp.
Netscape Mail – Does It Still Exist?
Netscape Mail was an email client developed by Netscape Communications Corporation. AOL purchased Netscape in 1998 and the Netscape WebMail interface was replaced by the AIM interface in 2005. The following year, users were prevented from signing up for new @netscape.net email addresses, effectively bringing an end to the service.
While existing Netscape email addresses continue to be supported via AOL Mail, Netscape WebMail no longer exists.
AIM Mail and AIM Messenger – Does It Still Work?
AOL Instant Messenger, or AIM, was officially discontinued in 2017, meaning the instant messenger service no longer works. The closure also resulted in AIM buddy lists being permanently deleted. However, AIM email addresses continue to be supported via the AOL Mail platform and users can continue to sign in, read and send emails as usual.
Still having problems logging in? Share your problem in the comment section.
– AOL Mail –