NCSECU.
How do I log in to the NCSECU Member Access website?
How do I contact the NCSECU corporate office?
What is the NCSECU customer service phone number?
NCSECU Member Access Login.
How do I sign in the the NCSECU portal as a member?
NCSECU has a mobile optimied login page, located here.
NCSECU also operates a full member access login page here.
Once one the login page, enter your Username and Password.
Click on "Submit", to log in.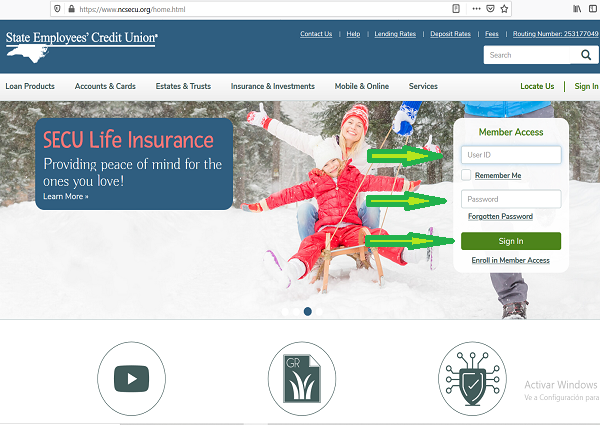 How do I reset my NCSECU Member password?
To reset a forgotten password, visit the Password Reset page.
Enter your User ID in the first box.
Enter your Social Security Number in the second box.
Click on Continue, and follow the instructions.
If you have forgotten your NCSECU User ID or forgotten your Password, you can also contact our 24/7 Member Services at 1-888-732-8562.
NCSECU Customer Service Phone Numbers and Contacts.
If you experience problems with the North Caroline State Employees Credit Union website or with any NCSECU services, you can call the Member Services line.
The NC SECU customer service phone number is: 1-888-732-8562.  The NCSECU customer service phone number is available 24 hours a day, seven days a week.
Automated NCSECU Phone Number.
An automated phone line can be reached by calling 1-800-ASK-SECU or 1-919-839-5400. This number allows you to access your accounts from any location in the United States.
NCSECU Lost Card Phone Number.
You can report a lost or stolen ATM/Visa Check Card or Visa Credit Card, or report fraud by calling 1-888-732-8562.
Send an email message to the SECU Customer Service.
Alternatively, if you would prefer to write to the State Employees Credit Union, you can send a secure message from within your account by clicking here.
Should you be unable to sign in, you can send a non-secure email to: [email protected] It is important that emails do not contain sensitive information, like your account number or SSN.
Finally, if you need to contact your local branch, you can find contact information by using the branch locator tool on the website, which can be accessed by clicking here.
NCSECU Corporate Office Address and Phone Number.
SECU's headquarters address is:
State Employees Credit Union Main Office
3101 Wake Forest Rd
Raleigh, NC 27609
United States
The SECU corporate office phone number is: 1-919-839-5018.
Please share any complaints or praise about NCSECU in the comment section.